AFFORDABLE, RELIABLE AND HASSLE FREE…
We Make Finding Competitive Sea Freight Quotes Easy!
If you're looking for a freight company that can save you money and make moving your goods easy and hassle free then you're in the right place.
MOVING BY SEA FREIGHT
Whether you're moving a single pallet or a whole fleet of containers, sea freight can be a low-cost way of getting your goods where they need to go. But there are some pitfalls to look out for!
Here at Millennium Cargo, we've got more than 25 years of experience in the freight industry so we know exactly how to make sure your shipping goes smoothly. We'll advise you and support you every step of the way, negotiating with our freight partners to get you the best rates and making sure you have all the documentation you need, when you need it!
With quick quotes (usually within just 2 hours), a swift turnaround on all your bookings and competitive rates, we'll make moving your goods, anywhere in the world, fast and hassle-free.
Please click here for a link to the UK government's customs tariff, which governs duty rates & procedures for imports & exports.
Why Choose Millennium Cargo For Your Sea Freight?
No Waiting For Shipping Line Documentation – We are an NVOCC and we issue our own documentation, so we can get your papers to you in just 24 hours every time.
You Choose The Currency – So you won't lose out on income due to currency conversions.
You'll Get Quick Quotes & Inside Information – We know exactly which carrier suits which destination, so we can get the best quotes for your route fast.
You'll Get Excellent Rates & Savings – You'll get a competitive rate every time – Not just the first time.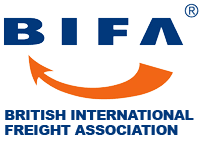 BIFA ACCREDITED, TRANSPARENT AND TRUSTWORTHY
As a BIFA Accredited freight forwarder, you can be sure that you'll always get an excellent service and the very best advice. We'll decode the jargon and help you to understand everything, from supply chains and suppliers to customs and taxes. Saving you time and helping you find the right routes and carriers for you.
.
DON'T JUST TAKE OUR WORD
"All of the team at Millennium Cargo are hardworking and professional individuals. We have had the pleasure of working with each other for a number of years now (almost 125 years in fact) and we have built fantastic rapport and an excellent business relationship. I would certainly recommend Ali, Connor and Rebecca for their market knowledge, expertise and competitive rates, combined with high levels of service in this very tough Freight Forwarding Sector we share."
Address
CFS Business Park, Coleshill Road,
Sutton Coldfield, Birmingham B75 7FS