CHAMBER MEMBERS JOIN FORCES IN NET ZERO AIM…
TA freight forwarding business has taken a huge step towards achieving its goal of becoming net zero thanks to a new carbon calculation and offsetting tool by a local digital design agency.
Millennium Cargo – based in Sutton Coldfield – was looking for a simple and easy way to help reduce its carbon footprint and decided to turn to the CocoonCarbon tool created by Cocoonfxmedia Ltd.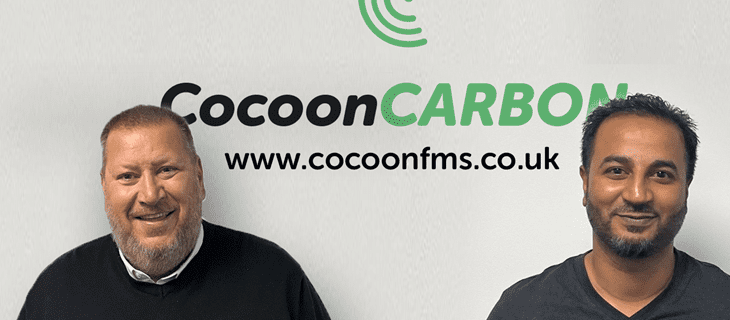 Both businesses are members of the Greater Birmingham Chambers of Commerce and share a commitment to help the planet.
Cocoonfxmedia achieved its net zero carbon goal last year and since then has been working to develop technologies that help others do the same.
CocoonCarbon is sophisticated software that enables businesses to measure their carbon footprint by estimating the carbon, nitrogen oxide and particle matter emissions of an entire journey from door to door, through road, sea and air travel.
Enhanced subscription-based versions of the software also calculate the exact number of trees needed to offset the carbon impact of that journey – and provide the option to purchase those trees there and then.
Using the software, Millennium Cargo can easily and simply:
Measure door to door CO2 emissions for road, sea, air and freight shipments
Get actionable results – ie what needs to be offset
Instantly purchase the number of trees needed to offset a journey
Report on their emissions
Share access with clients so they too can see the impact
Chadd Blunt, founder and CEO of Millennium Cargo Ltd, said: "As a freight forwarder we know that by the very nature of our services, CO2 emissions will be contributing to the climate emergency and we were desperately seeking a way that we, and our clients, could reduce this impact.
"We recently saw the news about fellow chamber member, Cocoonfxmedia, and their carbon calculation tool which seemed to tick all the boxes.
"We had a quick demo and were impressed with how easy the systems is to use. We could see the instant benefits it can bring to Millennium Cargo and our clients too.
"We're looking forward to getting started and making some real in-roads into our net zero target."
James Blackman, Cocoonfxmedia managing partner and former Lichfield and Tamworth Chamber president, said: "Millennium Cargo is precisely the type of business our tool was built for – those who are forward-thinking and serious about making positive changes to the environment. CocoonCarbon will help the business reach its carbon targets and possibly improve the impact of its supply chain as well.
"We very much look forward to working with Chadd and Ali and help them towards being net zero."
Pictured: Chadd Blunt with Millennium Cargo's sales and ops manager Ali Askar